Second Generation Camaro Owners Group - Camaro Spoiler Information

Spoiler History & Usage
Spoilers have been an option (RPO D80) on the Second Gen Camaro since 1970. Various styles of front and rear spoilers were offered, summarized they are:
Front spoiler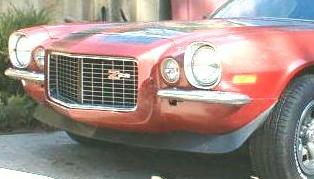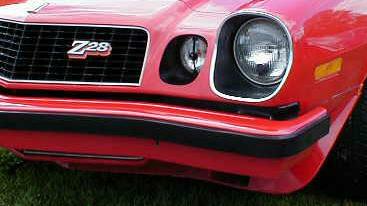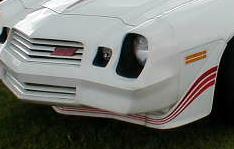 1971 - 73: RS chin spoiler differs from standard nose spoiler.
1974 - 77: center section molded into front valence. Z28 models had optional abs plastic side pieces to give front spoiler a more aggressive look.
1979 - 81 - Z28 only, 3 piece urethane front airdam.

Rear spoiler



1970 - 71: Low 1 piece, 1971 - 81: Tall 3 piece.

In 1970 and early into 1971 the standard rear spoiler was a low profile, 1 piece spoiler. There was a very limited (COPO 9796) 3 piece spoiler patterned (or "borrowed" from) after the Pontiac Trans Am available in 1970. Few people knew of its availability. There were an estimated 500 Camaros equipped with the copo spoiler.

This 3 piece rear spoiler became the standard spoiler in mid 1971.

In 1971 a front spoiler or airdam was included as part of the spoiler package. This was occasionally called a chin spoiler (or front extension) as well. If a car was ordered with this spoiler, it was shipped loose and installed by the dealer.

The spoiler end caps changed in 1974 to conform to redesigned 1/4 panel. The center section stayed the same.

The spoiler was optional on the Z28 until 1977 when it became standard equipment with the Z28 package. In some cases, an obscure option (RPO VE1) allowed you to delete the rear spoiler. Very few people knew of this or used it.

The mid 70's RS paint package included the rear spoiler as standard equipment.

Spoilers can be added and removed quite easily so they shouldn't be used to definitively identify a car. In otherwords, it's not uncommon to see front spoilers on 1970 models, 3 piece front air dams installed on 1980 Sport Coupes, or to see a 1974 Z28 owner who's tired of ripping the front air dam off and removed it.

Besides looking nice, the front & rear spoilers, separately or in combination, are effective in providing downforce and stability to the Camaro at high speed operation.

Spoiler Tech
How to fit a spoiler onto a non-spoiler equipped car.
Make a cardboard template - test fit the spoiler to the template. If it fits, transfer the template to the car. Measure 2 or 4 times, then drill once.

Fixing broken spoilers
Spoilers were made out of 3 different materials. Plastic, fiberglass or urethane. All 3 are repaired in different ways. Fiberglass is the easiest to repair, urethane would be next, and ABS Plastic is typically replaced if it's moderately damaged.

Aftermarket/Reproduction spoilers often require "reworking" to get the wavyness or warp out of them. Also, they are not an exact match to OEM. In other words, if you replace an end cap it might not match the rest of the spoiler. Check this before painting anything.

Last updated: 10/20/2011
Author: MadMike Maciolek


© 1997 - 2013 NastyZ28.com (tm)
North Georgia Classic Camaro
All rights reserved
Exploded diagrams courtesy of GM Parts & Illustration Manual