North Georgia Classic Camaro T-Shirt

I had these made up for us. I think they came out looking fantastic. Rather than keeping these a secret or for ourselves, you can get your hands on them too!
Sizes limited to Large & X-Large
Spectacular quality, affordably priced.
NastyZ V4E club logo is on the front chest.
NGCC T-Shirt Order Form
(click image to view full size)



Credit Cards & E-checks Accepted via paypal. "Send Money" to [email protected]
Questions or Comments? Send email to MadMike.

Order Electronically: Add to cart, then "view cart" to checkout and complete your order or continue shopping!
Online ordering is in US Dollars!
Click the Canadian surcharge button if shipping to Canada.
Click the Foreign surcharge button if shipping outside of USA/Canada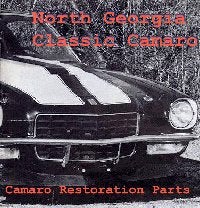 Return to Main Page
Since: 8/29/1996
This artwork and the Club names are
© 1996 - 2009 MSquared (tm)