So, my dad came up for thanksgiving and he was able to help me finally get started to remove the front end. The car has been in the family since I was 5 yo(now 37). Right before I had the car shipped from PR to the states, the car was hit on the driver's side front and bent the subframe. He was able to put the car together and I was able to ship it to up about 7 years ago. Finally, I found a used and good-condition subframe (straight and not rusted) about two years ago.
After we took the front clip out we found a little more rust damage on both side panels of the firewall and a little area under the AC box. Then I found the passenger-side subframe body rails snapped some welds during the car accident. So now the full restoration project that I wanted to do when my kids got older will start early.
Plan:
Front area rust repair and some small trunk rust repair. The rest of the car is pretty rust-free since it is a PR car.
Firewall smoothing
Vintage air AC/Heating
New dash, the current one cracked because of heat, and the cover did not work well
Repaint factory color
Frame connector Globalwest(already got) with solid mounts
The current SBC350 is in great condition, along with the TH400
I refreshed the rear last year with disk brakes, so I will be reusing it
Front suspension will most likely do a UMI front kit with a quick steer gearbox
Upgrade to the Intake manifold with multiport EFI
C5/C7 front brake upgrade
N90 17" clone factory wheels
Small retromod to look factory but with some modern and handling improvements.
One question, for the replacement body panels which manufacturer fits closer to OEM. OER, Dynacorn, etc?
Wreck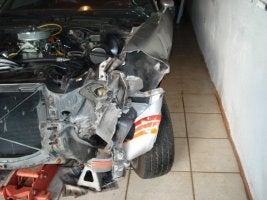 Repaired
Now getting dismantled