I wasn't planing on buying an engine for my car for a good while. I've got the car ('72 base 350, Z28 clone) sitting in my garage, but won't get to it until some time in January, maybe February.
But I got a sweet deal (I think) on a Gen VI 454, supposed to pick it up Sunday (don't know where I'm going to put it).
Here's my car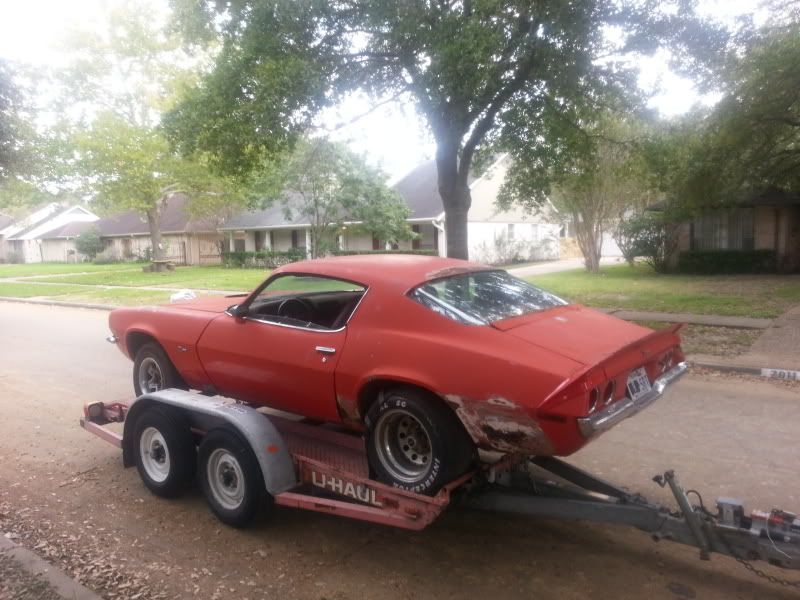 Needs a lot of work, plan on doing 70% or so myself.
I wasn't sold on a BBC, thought about it, but I was also considering an LSx (I've got a 5.3 in my Avalanche & absolutely love it with the 4l80E 240K+ miles). I also liked the idea of putting a Gen II LT1 in it. I also have a '96 Z28, not crazy about that engine, but it would be cool to put an updated LT1 between the fenders of a '72.
So I was cruising craigslist (I need to stop doing that) saw a guy had this for sale for a couple of months, called him, low-balled him. He more or less hung up in my face ( I don't blame him). He called me back an hour later threw a counter offer & I accepted. $400 for the complete motor & Trans from a '99 1 ton. According to him, it blew a headgasket & a friend of a friend convinced him to install another engine & transmission from a totalled suburban with less miles. He was going to try to recoup his money by selling the old set up. Technically he's losing money, technically I'm paying him to dispose of his garbage.
Anywho, I've never driven a big block car, & was wondering if you guys are happy with yours & would you do it again? This car will be a weekend cruiser, during football season I'll drive it to Houston & back for the games, 180 miles round trip. Probably take it to the track once or twice a year.
I'm thinking about copying
this build
in the future.