Funny, the car I ordered from factory is older than most people I meet! So after 43 years it failed to make sparks! I had messed with every item on this car except one which is really buried deep. The little pickup coil in the base of the HEI distributor. The Accel Super-coill was still fine after 40 years. Just age and deep south humidity got to this little guy finally.
One thing for sure, I wanted anything that hard to dig to, to be an oem piece! And don't even think you can do this without pulling the distributor, and some TLC on a bench.
So with it out, also got a new module, capacitor, and little harness while in it; if not oem, than highest price ones. The new AC Delco coil looked very nice, so it should outlive me now!
Notice the new little colored bushings the weights pivot on, my originals were fragments laying at the bottom, and the metal pins had wear marks from the weights. I gotta keep an eye on those.
New setup, cleaned, checked wear spots, used wheel bearing grease on weight pivots.
Little green marks are from a paint pen, to avoid mistakes in re-assembly. The old coil would show continuity on and off as you moved it's wires slightly.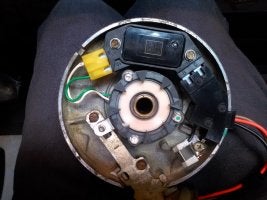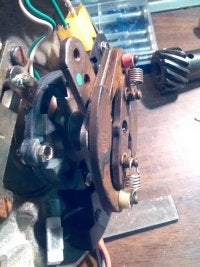 I hope I put the pictures in right! Sucker fired right up, and much faster revving without weights wobbling!