I have an (08D) 1974 Z28. "Forth" week of August. Never thought much of it until I started looking at more threads of when production parts were changed. i.e. HEI, Borg Warner 4 Speed, the right front inside fender slot etc. I started looking at the build dates of the cars presented. I have yet to see any Z28 produced as late as mine. That got me thinking, when WAS the last Z28 built? Is there a 2nd Gen registry? A 1974 Z28 registry?
Of the 151,008 1974 Camaro's built, only 1548 more cars were built after mine, which is #149,460. Were those 1548 cars also built that week?
Does anyone have or has anyone heard of a 1974 Z28 built in September? Or any Camaro for that matter. (09A) (09B)??
In October of 2009 at the St. Charles Mecum Auction, they sold a white 1974 Z28 for $44,500 claiming, and I quote:
After hearing a radio ad in Signal Mountain, Tennessee that the Z-28 version of the Camaro would be canceled in a week, original owner Amos Smith ordered this car on the Friday before no further orders could be placed. Built on August 19, 1974 as the last few factory build days of the entire '74 Camaro production line, this car is thought to be the last possible Z-28 Camaro built.
His was built on Monday the 19th. The 1st and 2nd were a Thursday, Friday. Is that considered week "A"? If so then his was built in week (D) as was mine. There should be week "E" for the 26th -30th.
Does anyone know how they assigned the letters for the weeks?
Would love to know where mine falls in the lineup.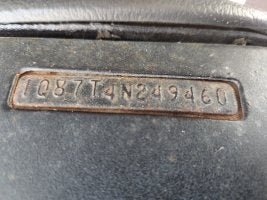 Last edited: