For Sale: Used 1974-1981 Camaro Bumper Jack Base stamped "U", GM # 329747, with a 1/2" hole. This bases is for bumper jacks made by the Universal Tool Co. (stamped "UN" or maybe just "U" on the up-down lever on the jacking mechanism). This base came from a "UN" jack assembly dated "4D" (April 1974) that I apparently sold.
This particular 329747 base and is stamped "U" on the front and measures about 2 1/2" in height along with a 1/2" hole.
GM # 329747 was replaced by GM # 14016964 sometime between Jan. 1981 and Aug. 1985 as per GM Parts History and my Aug. 1985 GM Price Schedule. GM # 14016964 is almost identical to GM # 329747 except it has a vertical tab on the back side of the "keystone" (or trapezoidal) hole. According to my other vintage Chevrolet & Pontiac parts catalogs the "keystone" hole measures 1.20" X 0.75" X 1.28" long. Potential buyers should do their own research and check their Camaro assembly manuals for the base part number correct for their car. The 1974 Camaro Assembly Manual lists GM # 329747 as the part number for the jack base.
I cleaned the base as shown with my wire wheel to clean off the paint and surface rust. The top part of the base just needs to be re-painted but the bottom side could use media blasting before re-painting.
NOTE:
This base fits the jack shaft above in item #30. It will also fit some, but not all, 1970-1973 jack shafts as long as the
"stops"
in the 1970-1973 shafts are at least a minimum of
2 3/16"
from the bottom end. I have an early 1970 Camaro jack shaft assembly dated "9M" (Dec. 1969) where the 2
"stops"
are only 1 3/4" from the bottom end of the shaft.
$15
for the Used 1974-1981 black jack base with the 1/2" hole and stamped "U" plus shipping and Paypal fee (if applicable).
If interested,
SEND ME A PM and SPECIFY ITEM # 31.
Dave
SALE PENDING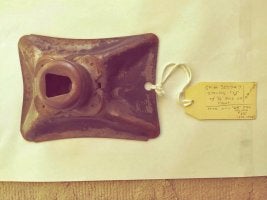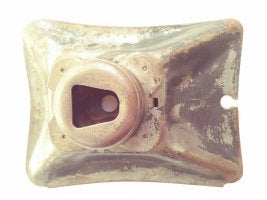 Last edited: