I've been beating on my camaro's rotted framerails and saggy suspension for 3 years now! I finally took it off the road for a frame-off resto, the goal is an all old-school street machine.
Brief summary of the car up until this point: Bought off ebay in jan '09 when I was 20. Got it from Ohio for 6K as a driveable project with a hopped up .060 over 350 in it and tons of spare parts. Had fun going around the block for a bit, went to start it one COLD morning and water pump was frozen solid- motor had no antifreeze just straight H20. Block had 2 10" cracks down the water jackets on both sides, making it a great boat anchor not much else.
I had no idea how to do engine work, but learned quick and built a fresh 383 off a junkyard 350 motor, using the awesome dart heads and most other parts from the old punched out 350. That took me 6 months and about 2 grand, she has been my daily driver ever since..
The car also has a built up th350 w/3200 stall, 4.10 posi 10 bolt, stock z28 wheels and street tires. It is an original SS/Z27 car. Runs great, recently drove it down to Island Dragway and ran 12.96 @ 106mph.
One more thing- I've never washed my car, it's been in black primer since I got it and don't really intend on painting it. When the time comes, I'll probably shoot it with satin black, something that I wont care about scratching or spilling brake fluid on or going dukes of hazzard down dirt roads or whatever. I'd rather spend my time driving or wrenching on the car then cleaning, waxing, etc.. not to mention the expense of a decent paint job.
I'll try to post less words and more pics..
Here are a few taken just before I started tearing into it, many more to come: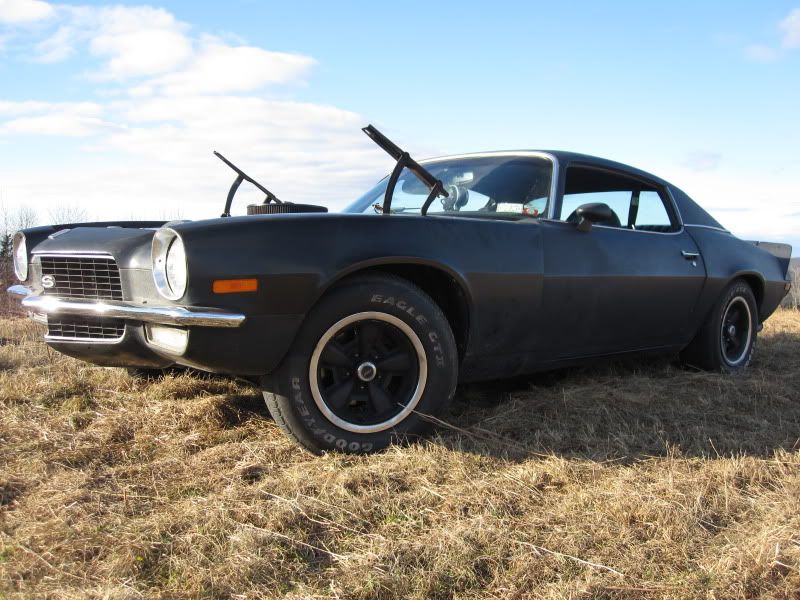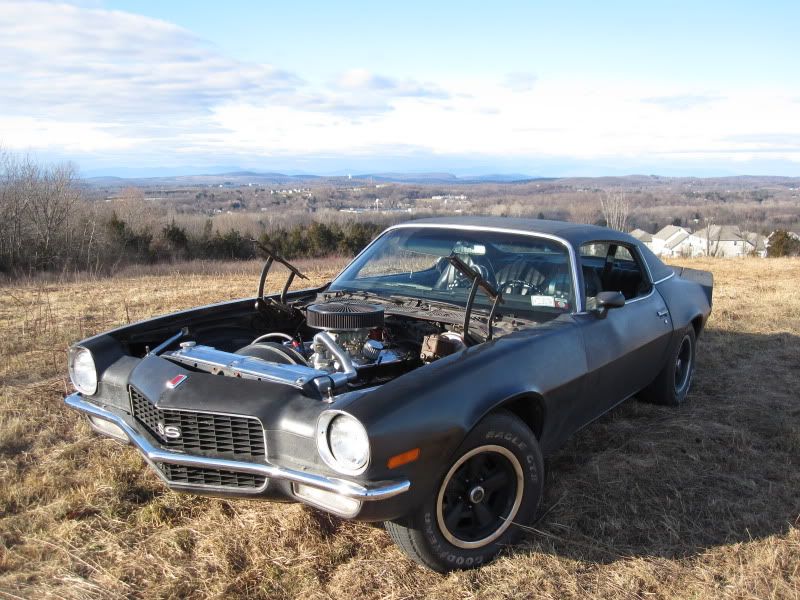 -Andrew
Last edited: