So I took a look at a 1970 base model Camaro project car and was wondering what the views were here on current values. I know, they are nuts. The car has some great things going for it but it also has some rust issues, real bad.
The owner has had it for a year and hasn't touched it since it was unloaded off the trailer, it has sat outside since. He is not going to get to it and is selling it off. He didn't have any history on the car.
In factory condition this was a beautiful car. Code 10 Classic White paint with a Code 715 Blue standard interior. L-65 2 barrel 250hp 350, automatic trans with console (not sure if original). Factory A/C is still fully intact, factory power steering and power brakes. 10 bolt rear, no sway bar. It was built in Norwood in the last week of production for 1970 (5th week of July). The car fired right up when he sprayed it with starting fluid.
Outside of the rust here is the other bummer. A previous owner clearly wanted a black on black car. It is now painted black and they switched out the entire interior from what seems to be a 73 or newer one. They even switched out the lower dash so it has the fasten seat belt light now.
The body itself isn't horrible. The trunk floor is pretty good and there is no rust at all around the weather strip or by the hinges. The cowl looks real good, no rust at the bottom corners of the wind shield and it even has it's bottom plastic trim pieces intact. The rear quarters would need replacing, the doors, rockers and fenders look pretty good. I think it was in some sort of a fender bender though as the drivers fender is in primer as well as the upper valance. The bumper is mismatched as well, looks like a 1973 bumper? It seemed like it would have been a light accident though, I didn't see any signs of damage that went past the exterior pieces. But it's bad underneath. The worst is in rear frame rails, not surprising. They are just shot as well as the torque box area, completely a mess. That is what stopped me in my tracks. I didn't really get a look at the floor, I got scared when I stuck my finger through the torque box area.....
He had this listed at $7500 when I looked at it yesterday. I politely gave him my feedback and went on my way. Today I see he dropped the price to $6800. Is that about right? Is that totally crazy? Is it close?
What do you think? The 1970 cars are very desirable and this has a few nice options. But it is still just a base model without the correct interior. Now that full aftermarket chassis are available for $15,000 grand or so, maybe the frame rail rust isn't as big of an issue?
What do you think?
Torque box area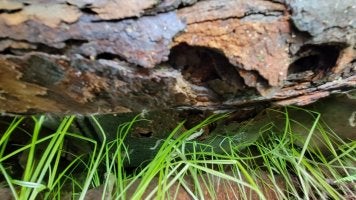 Looking up at what is left of frame rail