The Maciolek Family's 1974 Z28 Camaro


Click either picture to view full size
Above : Left - View as obtained on Jan 1998. Right - View as of June 2007.
Jump to: My 74's specs | Exterior | Interior | Chassis | Photos | Current Status | Background & BS
The Goal: Nice, comfy, fancy (functional A/C & Radio), reliable, economical daily driver or "touring" car. It would be fun to take our spins up to the Smokey Mountains in this piece.
I've moved this car into our new garage. Now that the car is inside and protected, it's getting assembled. Me & Kyle installed the engine & trans, and I've been installing all the mechanical and drivetrain items. I'll update this page with pictures here and there as the car progresses toward completion. I plan on putting the drivetrain and chassis together. Then I'll straighten out the body. Lastly, I'll install the interior and we should be on the road.

My 1974 Z28 Car Specifications - View Trim Tag
This car was a moderately optioned 1974 Z28. It was originally painted Medium Red Metalic (code 74) and had a standard Saddle (code 798) interior.
View as obtained: Side view of 74 Z28 | 1974 Z28 - front 1/4 | Front View | Nose | Yard Reorg - notice me steering, everyone else pushing?
Factory Options (original):
Air Conditioning (C60), Front & rear spoilers (D80), Console (D55), Dual Mirrors (D35), Automatic Transmission (M40). Interior Decor/Quiet Sound (Z54) (wood grain dash bezel and interior lighting). Lower rocker molding.
Mandatory Z28 options:
Power Steering (N41), Power Brakes, (J50), Special Purpose Suspension (F41).
Options added by me: U14 Instrumentation, C24 hidden wipers, N33 tilt steering. 1981 Z28 steering box. Complete Style Trim Group (Z21), (belt molding, door edge chrome & bright accented parking lights).

Drivetrain Specs:
Engine: Freshly rebuilt Vortec 355, (approx 250hp) using my old 350 suburban block as the foundation. Edelbrock TBI Camshaft, & double roller timing chain, Edelbrock Performer dual plane intake, 670 holley street avenger & Heddman shorty headers.
This engine is set up to accomodate my fuel injection system, however for now it's more practical to put a carb on it and run it. If I decide to use the old injection system, I'm going to try and hide the TBI under the original stock dual snorkle air cleaner to give it a somewhat stock appearance.
View: Pulling LO5 from trusty old Suburban | Donor engine | Freshly rebuilt | Finally installed!
As of Sept. 07: Drivers side view | Passenger side view
Transmission: 1990 700R4 from my old suburban. This was on its way out the last time I drove it. It's been gone through with a special recipe of TCI components - Beast Sunshell, 29-element sprag, heavy duty clutchs & band, shift-kit, corvette servo and locking torque converter. I used a custom tubular cross-member to support the trans. I had to change the dipstick to a flexible unit since the stock truck tube was too long.
View: Installed view
Rear Axle: I sold the original 3.42 posi rearend. I've put a 1979 (2PA coded - 2.73 open) 10 bolt rear end in with 3.42 gears I removed from my 1999 Suburban.
I sandblasted and cleaned, and cleaned the axle housing. Then I painted it and am reinstalling all new brake components. Note to self: Don't forget to clean the INSIDE of the thing next time before making it nice and pretty on the outside.
As of Sept. 07: Drivers side view | Passenger side view | axle setup | rear pattern
Exhaust: I have heddman shorty headers, and they'll be custom plumbed into a stock muffler and tail-pipe setup. The stock transverse muffler is from Emco and the tail pipes have chromed tips.
View: Installed view
Fuel System: I have an all new fuel system... new fuel tank, GM sending unit, lines, etc... it'll be stock for 1974, with the exception of the Holley carb. To screw this onto the car I'll try and replicate the 1970 LT1 fuel distribution. I may eventually try and retro-fit my LO5 fuel injection system onto the car assuming I can do this without ruining all my nice new fuel lines or wrecking my new fuel tank & sending unit. If I were smart, I should probably stick with the carburetor.
View: Old fuel tank | New fuel tank | fuel lines | line snafu | Holley 670
The snafu depicts what happens when you use the 1975 and newer sending unit with the 1974 lines. I'll alter the lines on the car to connect to the sending unit. A 1974 specific sending unit is not available. You can see where the original lines ended in the photo of the old tank.
Cooling System: I screwed up and used the wrong waterpump. It won't directly accomodate my steering pump brackets, so I have to replace the pump (rather than the brackets). I'm going to install a clutch fan and have put in a new radiator. I asked for Modine, but got some chinese unit. We'll run with it and see what happens. I have an original radiator upstairs which could be put into service if necessary.
View: Radiator

Exterior Body: I plan on painting this car "Shadow Gray" (a dark charcoal). I'm going to install a 1980 functional hood scoop on the car. The rear body is in decent shape. I have a pair of excellent doors from a 1970 Camaro. I'm patching some original fenders to avoid using the reproduction ones. I have to patch some small problems on the floor and on the rear drivers side quarter panel.
Exterior related Options: Z21 - style trim, D35 - dual mirrors, D80 - front/rear spoilers
Firewall: Firewall | exterior, stripped | interior view | under dash wiring mess
Misc: Floor | NOS Valence (yumm-yumm) | Rear Decal (evidence of no D88)
exhaust shields - Z28 specific
Undercarridge: The undercarridge has 32 years of clay, dirt, undercoating and crud under it. Everything is screwed up. I'm removing everything to either recondition it or obtain a replacement. I need to clean the floor and then paint it red-oxide.
underside of car - note dual exhaust hanger & swaybar bracket. crud underneath car, old fuel tank - junk. The dirt pile that was stuck between my 1/4 panel and trunk extension.
Bitchwork: (Cleaning underside of car)
This stuff worked great | frame rail | bulkhead | frame rail
The objective here is to get everything clean and then painted. Once this is done I can install my new rear springs and rebuilt rearend. The springs depicted in the picture are the original springs. The rear end is a 2.41 which is simply holding the car up. Both of those items are junk.
View Before/After: Rear tail pan (before) | tail pan (after) | Frame rail (before) | Frame rail (after) | Rear floor (after)
Mr. Attention to detail
Trunk: The objective here is to neutralize the rust and seal the trunk floor.
View: Trunk floor (initially) | Sealed | Splatter painted | Trunk rug (dirty)

Interior/ Features: When I got this car, the whole interior was destroyed. Originally saddle in color, the interior color will be changed to black. I have a set of "Type LT" (custom) seats I'm going to use. These will be combined with the corresponding black standard interior pieces. Now that the car is parked inside, I can strategically install some of the interior.
Interior related options: U14 - special instrumentation, C24 - hidden wipers, D55 - console, N33 - tilt wheel, C60 - air conditioning
Headliner: headliner before | Headliner installed | Another view of roof
Wiring: All the wiring, except for the rear light harness will be replaced with factory replacement wiring. This includes all the sub-assemblys and optional equipment (courtesy lights, hood light, trunk light, rear defog...)
View: Wiring disaster | More Wiring | fuse block | TH400 kickdown | Ready to rewire!
Installation Photos: Engine Bay fuse block | Old Vs. New dash harness | New dash harness | Installed view | Dash harness installed
Seatbelts: Seatbelts are important to me. Rather than having these be decoration, I'm going to send a set of 1974 belts off to be reconditioned. The only thing I'm worried about is these are the "exploding button" style, and I don't know if my ignition interlock thing works. If this deal doesn't work out, I have a functional set of 1976 front belts I could have rewebbed.
view: Seat Belts | Seatbelt roof anchor
Dashboard: The depicted dash is now ruined due to mold. One of the problems of sitting outside. Everything will have to be removed and cleaned again or replaced.
View: Dashboard | Dash & Pedals
A/C Refurb: The A/C will be present and quasi-functional for now. I don't plan on hooking up the compressor or hoses until sometime later. Right now it's going to be clean, correct, and somewhat presentable with everything where it should be. I'm doing this mainly so the car will have heat & defrost. I replaced the wiring harness for this too. I'm going to adapt a newer control unit to the car.
view: Firewall case | another view | low angle | Cleaning vacuum hoses




Chassis


I'm going to keep the steering, brakes & suspension "stock". In an effort to save a pile of money, I've raided my 73Z's steering (all new Moog) and expensive brake parts (drums, rotors/bearings) which is all new. I installed the too tall front "1980Z28 springs" (TRW 365#) on this car, hopefully since it's heavier, it'll sit correctly. I have new 1974 Z28 rear leafs from Eaton Detroit spring. I have a rebuilt saginaw steering gear with "IROC" valving.

Brakes: Stock, power assisted disc brakes (RPO J50), rear drum brakes.
View: Rear Drum brakes | Drum brakes | front rotor (back view)

Steering: Stock, power assist (RPO N41). New saginaw steering gear with IROC valving. Moog Steering linkage & Ball joints.


Springs: Stock F41 specific for Z28. TRW 365 pound front coil springs and Eaton-Detroit spring rear leaf springs for the 1974Z28.


Swaybars: 1" front swaybar, 5/8" rear swaybar
View: Rear swaybar

Wheels & Tires: Z28 5 spoke wheels with 235 60x15 tires will be put on this car. This set is black rather than dark gray.

Subframe: Removed again | Ready for cleaning | During clean up | Sandblasting | After being POR'ed | Front bumper
Subframe done | core support | Trey says Coke is it!
Subframe Snafu - I needed to use a come-a-long to pinch the rear of the subframe together to get it to line up with the holes in the body.

Misc assembly pictures: Powder coated upper control arm | Installing brakes | Spindle & Spring | Installing steering shaft & gear




1974 Z28 Photos
A work in Progress: Tucked away | Minus Front End | Dash Removed | View on May 2000
August 2000 | View on April 2001 | October 2001 | November 2001 | August 2006 | May 2007 | June 2007
September 2001: Taking the car apart (again)

The pictorial definition of "Goobered up". Previous accident damage, which was semi-straightened out, and covered up by the fender. Oh yes, another bonus that can be seen in this picture is - all that trash, leaves and stuff that gets under your cowl screen and falls into your firewall.... accumulates here and rusts out the firewall area of your car.

Collecting parts (yes, that's a NOS 1974 only black grill in the bag).
September 06 Bitchwork
I found the Spindles & Trans linkage I plan on using. So I cleaned them up and stashed them in the 74Z's parts pile. Here's my Cleaning table. I either wire brush everything or sandblast it. Then it goes into the Parts Shed and gets painted and then put away. I repainted the Core Support again.

Current Situation
Spring - 2007
I'm working on this car again, so I'll update the webpage to show where I'm at. This will mainly be showing the rebuild process of my 74Z. I'm going to try and get this car straightened out before the 1973 Z28 since this car should be more practical to be driving around in at this time. The only problem is this car is currently outside and it's hard to work on it. Some of the things coming off my 1980 Z28 will go straight onto this car - the front suspension, etc... The engine/trans work(ed). After sitting at my friends house for 2 years, they now reside at my place.
The 3 major items on the agenda at the moment are collecting (or finding) parts, sorting out the body and doing the suspension. I'm going to clean, repair and rebuild the undercarridge and suspension so the car is clean underneath and can roll. This is safe to do outside.
I'm also going to do some rust repair on this car to keep it from falling apart and to get it ready to paint. I've stripped the car of all the external parts and trim. I'll probably spend the forseeable future sanding, fixing and priming the car (aka "bitch work"). I can do this where the car is so it'll be ready for paint.
Lastly, I'm identifying all the re-assembly parts I need. They're all up in the attic in boxes. All that stuff will be reconditioned or replaced with better quality items so when it's time to reassemble the car they'll be ready to go where they belong.
The main thing now is to protect the car by catching and eliminating the rust that's on it.
Fall 2006
I'm really going to town now. I've organized all the pieces I need to put the car together. Now they're being cleaned up and installed.
My plans for the engine fell apart. I originally wanted to run the LO5 (210hp) 350 from my suburban straight out, simply doing a valve job and installing the TBI camshaft. My heads were cracked. So I had to replace them - with vortec heads. My block needed to be bored (requiring new pistons), and my crank needed to be turned. So the LO5 turned into a L31 vortec 350. And I'll probably run a carb on it for a while, with the option of injecting the car with the original TBI system later.
(original plan for the engine): "Stock" 350 TBI (LO5, 210hp) from my 1990 Suburban with 235,000 miles on it. I pulled the heads and am having them rebuilt. Several exhaust valve seats were shot. I'm going to clean up the bottom end and re-ring the block. I have an Edelbrock Performer TBI camshaft and double roller timing chain for it.
I'm going to try and hide the TBI under the original stock dual snorkle air cleaner.
View: Pulling LO5 from trusty old Suburban | Donor engine
Current Situation (circa 2002)
I'm putting various sections of the car together, keeping in mind I'll need to disassemble some of these sections when it's time to paint the car. The next major items on the "to-do" list are: finish the interior firewall/under dash area, install the A/C stuff, and rebuild the subframe so the car can roll/be pushed/steered (into the garage to get painted).
October - 2001.
I'm really going to town. I stripped, cleaned and painted the firewall, and I stripped, cleaned, painted and reattached the subframe. I'm strategically putting the front end subframe back together, and repairing the floor of the car. I hope to be able to write up some technical articles for the camaro club while doing this work.
I'm working on the interior in zones, I hope to have the inside firewall (under dash area) put together along with installing the dashboard and the roof of the car. I put the headliner back in (headliner, molding, sunvisors, etc...). I'll leave the seats, door panels and rug out until after I paint the car (next spring?). One thing I'm trying to be careful about it to not fix something (make the interior nice) and find out next month it's ruined (kitty cats got into car and pissed on rug).
I'm doing a lot of what I call "bitch work". Cleaning and painting everything I'm dealing with, and I mean EVERYTHING. I'm also rumaging around through several hundred coffee cans for the bolts, brackets, fasteners, clips, etc.. to try and reassemble the car as I get to whatever section I'm dealing with.
September - 2001.
I guess it's showtime now. I removed the subframe again, stripped the firewall (inside & out) and I'm going to clean and paint both these items. I'll rebuild the subframe as much as possible (without having to take it apart again) and bolt it on permanently.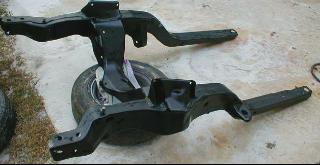 I'd like to fix the interior floor and clean the firewall up. Then I'd like to start painting some stuff and hang the doors on the car. I'm not sure how well I can paint the car where it's at, so I'll try and get the jambs and tough areas so I don't have to disassemble the car to paint it again.
My theory is I can have the subframe permanently attached, the car closed up, the dashboard, headliner and most other interior parts put back where they belong and I can start bolting the front end onto the car too. A lot of the stuff I'm removing is junk and needs to be replaced with stuff I have stashed in the attic, or - now's the time to find out if I have something or not.
We'll see what happens.
May - 2001.
Man, I haven't touched this page or the car in almost a year (May 2000). I came close to selling this Z when a couple folks asked about it, but I'd prefer to keep it. I needed to sort some stuff out and find some parts which got me to poking around on this car.
I'm playing around with the car again. Doing things that fall into line with other things I'm working on (painting my suburban) - so I'm doing some paint related work to this car. I further took stuff apart, to either stash it or throw it away. I took another look at the various items I have saved for this car. Over the coarse of the past year, I got to storing stuff in the car, so I cleaned it out again.
Clean up firewall
Clean, fix & POR floor
Clean, POR & reattach subframe
This'll help clean out the attic and give me a better idea of what I still need to get or find. I can also bolt everything together so I stop losing things. I'm going to replace the headliner so the interior roof, rear shelf & rear seatback will be done. I need to permanently attach the front subframe. Then I want to hang the doors correctly and refinish and install the front end metal & bumpers.




Background Rambling
January 1998
I started buying a couple Camaros (for parts) to fix up my 73Z28. On a trip down to Florida to buy some engines and stuff, my cohort Tom, was reading the "for sale" ads, and noticed a fellow who had a bunch of 70-73 Camaro parts down in Marietta. When we got home, I called him. He didn't have anything, except a couple 12 bolts, some firebirds, and a 1974 Z28. I went and took a peek at the 74, and it was relatively solid - it was a Z28. The drivetrain was gone, except for the rear end. The interior was completely junk. All the glass was present, and in good condition. So, I bought the car. I think I bought the car for the wheels and the windshield. Then I got to thinking.... it's a Z28. They're not making any more of them and it'd be a shame to tear the car up.... hey... I'LL KEEP IT AND FIX IT UP TOO.

I obtained the car from Marietta GA. Someone who went to CASS High School (in Cartersville GA) in 1979/1980 apparently was a previous (or original) owner. There's a high school parking sticker on the rear bumper. Not only does this car remind me of my 1st car (simply a 1977 Camaro Coupe) during 1981, but it reminds me of what we were driving around in back in high school.

April 1999
Hey, I've only had this car for over a year now. And it's pretty solid. A LOT more solid than the 71Z28 I was worrying about. Plus, this car is an automatic, and I got a lot of stuff laying around. Plus, I'm trying to clean up the yard and get rid of the last of a 1974, 1975 & 1976 Camaro....

Duh?! Why not work on this car since it's a lot closer to being functional than most of my other stuff. By stripping the 74Z and throwing away the trash, then stripping the old cars and (re)claiming what I need to fix the 74Z it'll be the most efficient way to clean up the yard. Not to mention I can see and use what's stashed in the attic/garage/closet/carport/shed/other cars....

What I did recently is I claimed my black interior from the attic and am freshening it up. I'm installing it into the car. I'm doing this not only to get it out of my attic, but to use it, get it installed into the car so I can see it - and not accidentally sell what I need, or have 5 sets of interiors and NOT sell something I could.

That 305 engine I had waiting to go into my 1973 Z28, which now has a 350 will go into this car, bolted in front of my old TH350, the driveshaft is coming from the junk 74 and the rear end is coming from a junk 76. The springs, front & rear and coming from a 1979 Z28, the control arms are coming from a 1974 Camaro. All this stuff can be cleaned up as I strip it off the old junk cars. Once it's ready, it gets bolted onto the 74.

I tore the nose of the car off, soon it'll be stripped back to the doors and firewall. Most of the sheet metal up front is junk. I'm replacing it with metal from some of my (now scrapped) cars.

The drivers door is shot. I've already got a door to replace it.

The amount of bodywork required will be minor. (ed note: YA RIGHT - NOT!!!)
Some things to think about are: Paint and weatherstripping will cost some bux. I can't weatherstrip until I paint. I can't paint where the car is currently located. I can't move the car until I have brakes and steering.

Some items I'm working on now during the month of May are:
Remove dash assembly. I have a decent replacement.
Inspect wiring behind the dash, fix it, or use the other 74 Camaro underdash harness that appeared OK.
Claim a gauge cluster - this car came with a non-U14 (no tach, gauges), I'll use the 73Z's guage cluster and put the 150mph speedo/8000RPM tach into my 1973Z.
Redo headliner ($40).
Install one of my black interiors. This will allow me to see what I have and what I need, for example, I claimed a set of seat rails.
My drivers seat is messed up and needs to be redone/replaced.
Strategically strip and clean the subframe.
Replace the subframe bushings.
Recondition the new control arms.
Clean up & replace rear springs, swaybar and rear end.
Install the transmission cross member and install the drivetrain.
Once the engine is muscled over to where it's supposed to go we can drop it in place.
Once the engine is in place, we can begin bolting up the radiator core support & front end bracketry.

A project for a day when I don't have anything else going on..... Grind all the surface rust in the trunk and on the floor and POR the floor and trunk. I'll need to put some caulking on the trunk floor as the old caulk has disintegrated. (of course this'll mean removing the interior, but I'm not permanently installing the interior for this reason.)

Mothers Day - 1999.
All the front end sheet metal was removed and subsequently now resides at the county dump. The header and lower valence are fiberglass, so, while they're not in the best of shape, they're functional and can probably be saved.

In tearing the front end of the car off, I discovered someone previously in the past had a serious problem, including, but not limited to smashing the whole drivers side of the car in. From the firewall down the door and into the door jamb. Most likely, the fender and 1/4 panel was replaced back then as well. Apparently, all this accident damage was "repaired" and the car was reused again. Some of the suttle differences are now obvious, in that one fender had a "Z28" emblem, while the other fender didn't. One door has outter door reveal molding (ironically, the door that's no good), while the other door doesn't.

The interior is stripped out, I'm going to redo the headliner and repair the floor before reinstalling the interior. The behind the dash wiring was pretty interesting, and it may require a new harness.

I may strip the interior as well as exterior firewall to recondition those items, including the A/C. Most of my Z28's don't have A/C, except this one, and since it's an automatic and a "fancy" car, I should repair the A/C.

Since the car is sitting in an area where I can disable it, I'm going to remove all the front end subframe components and redo them. I can batch up a lot of this work and knock out repairing this car, as well as the 73 at the same time.

The 73 will be the tempermental fire breathing 4 speed that you roll down the windows when it's hot out, while the 74 will be the nice sweet mannered commuter car, with cold a/c, a functional radio, and an automatic transmission.

June - 1999.
It's screw up time. I took the 1973 subframe and started blasting and cleaning it up. I bolted it onto the 1974 Z28 with new subframe bushings and everything was going well. I was a happy camper - until I noticed the 1973 subframe isn't drilled for the reinforced bumper bracketry of the 74 nose. I could drill/tap and fit this... but... with several technically correct subframes available out back, and with the need to have a 1970-73 style subframe (for the 71 Z28) I figured I'd "relax and thing things over" for a couple months.

So much for not having to rebuild the whole front end on the 74, and saving a bunch of time & money.

In other news, I went and claimed a pair of doors for the car, and the body damage means a GOOD door won't close correctly without screwing with the striker and adjusting the door. I haven't done this yet.

I also wore out my sandblaster before finishing all the stuff I wanted to blast. I went and bought a good Sears blasting setup, but I was so pissed off by the recent events that I haven't put the blaster together yet, nor have I touched any of the cars for a month, except to move crap away from where I need to cut the grass.

Late Summer - 1999.
All right, I'm better now. Actually I had to take care of some other things that were more important than this: Anyway, I've decided to use a 1979 Z28 front subframe for this car. This subframe was taken from the brown Z that rusted all to hell and was sawed up. Of course, this means I got to remove and relocate the 73 subframe from the car and put it somewhere to be later used for the 71Z.

I also sawed up "sloppy seconds"... the 79 Camaro I bought, stripped, sold, got back, gave away, traded back for, then put the saw to it.

In this picture you can see the 74 Z28. The red car behind it is (was) "sloppy". Sloppy is giving up the floor and the firewall & door jambs - among other things.

Big items on the "to-do list":


Clean up & attach subframe.
Claim specific patch panels (firewall, door jamb, tiny section of floor(s).
Strip & paint firewall

May - 2000.
In the process of cleaning up the yard, I'm back playing with this thing again. I also bagged a couple cars that'll help in fixing this thing up. I removed the 73 subframe and parked it out back. I have a 1979 Z28 subframe which is ready to be reinstalled (hopefully permanently).
Ed Note: The 79 Subframe didn't fit either, so I bolted the original 74 subframe back on. And that's that. What a flippin disaster.

I have a 80 Camaro and 81 Z28 which will donate whatever is needed for the firewall, a/c, wiper motor, brakes, etc... I bought a new lower valence which looks pretty decent, plus I got the front spoiler ends. I'm sorting through and claiming all the stuff I need (that I already have somewhere) for this car. Where possible, I'll install it on the car, otherwise I'll just stash it somewhere.

As this car is the 3rd stringer, it'll not have an engine & trans ready, until I build my hotrod 350 for my 80Z... in which time, if the 350 in the 80 hasn't come unglued it'll be tossed into this car.

I still don't want to do anything major to the car until I can park it in my garage but there's been some noticable activity happening on this car.


Last updated: 9/15/2007
Rewritten: 11/24/1999
Author: MadMike Maciolek
Email:

[email protected]




Return to Main Page
© 1997 - 2006 North Georgia Classic Camaro (tm)
All rights reserved