The Maciolek Family's 1980 Z28 - "Street Survivor"
The Original "Nasty Z28"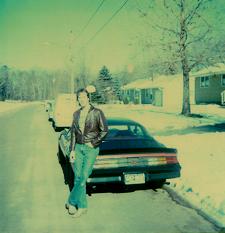 Above: Left: "Hanging out" (1985), Center, Me & some hardware, circa 1988 (notice I still have hair), shortly after visiting Lebanon Valley (NY) Dragway. Right: Current view as of 8/2000 - Some assembly required. Hasn't moved since 1995.

When I wasn't out wasting Grand Nationals & Scooters (jap bikes), I was wasting my tires.
Click here for a complimentary MadMike SmOkE sHoW!!!

Background on the 1980 Z28
I bought my 1st car - a 1977 Camaro - in 1982. MadMike (left), my pal "Jimbo" & the 77 back in CT (1985)

Enter - "The Z"
I came back from LA in the fall of 1984. I got a full time job busting my balls in a Honda Parts warehouse. My co-worker had a 1979 Z28. I was looking to get into a Z28, and I wanted the 1980/1981 style. I shopped around, and finally found this "beautiful" looking 1980 located in Springfield Massachusettes. It was nice. I took it for a "test drive" during which I was challenged at least twice, both times which lead me to paste, good and proper a new GT Mustang, and a new Z28. I got the mustang twice... once on the freeway and he followed me off onto the side roads to get beat again from a stoplight. When I whacked the throttle I laid drags bigtime, got the biggest $#!+-eatin grin you can imagine as I was blowing the Fords doors off. At this time, I promised myself and the salesman I was buying this car. He hadn't taken his hands off the dashboard since we left the dealership lot. I *need* this car.

I bargained the guy down to $6500, and traded in my 1977 Camaro for $1000, so in true MadMike fashion, I didn't have 2 nickels to rub together - and I bought the car (signed and put a $100 deposit on the thing). I was 18. I sped home and told my dad what I got (and indirectly got him) into. "Dad - please. Help me" He co-signed my loan, and insured the car under his policy. If he didn't do this, I would have been up the creek.

The night I had to pick up the car, my mom & my sister came with me to pick the thing up. Driving home with the 80 Z I turned on the lights. I was excited to show my mom how the flaps opened up when you floored it. Unbeknownst to me, there was a light installed inside the scoop, so when you floored it, with the lights on.... this evil red glow emitted from my scoop. This caused me to deposit a small turd on the seat. Needless to say, I had to see that light about 15 more times in the course of driving home. My mother learned what a "White Knuckler" was that night.

Now I own this car.... the legend of MadMike and his NastyZ are about to be born. I'm "DA MAN"!

History as a Street Machine

To get the full effect of this story, it is suggested you take your wallet and toss all your money into the back yard. Turn on your vacuum cleaner for full effect. Lest you get any ideas, please cut up all your charge cards before you get a chance to max them out.

Purchased car in March 1985, completely stock. Traded in my 1977 Camaro and $5500. "Whatta deal!" Actually, what a rip-off. This car was a wrecked and abused lemon - most likely auctioned off, quick fixed and tossed onto fly-by-night dealers lot. Current cars were selling for $8000+. My "deal" was only $6500.

Spent about $400 a month on gas. "Man, this car sucks about twice as much gas as my old car." Within a month of owning the car, a tire went flat. Why? Cause the front end was all screwed up. I had to replace the whole front end steering and I bought the fancy new Goodyear Gatorbacks. Open wallet and vacuum out $1200.

October 85, I need to soup up my car.
It was becoming clear that while the car could generally hold it's own, there was trouble on the horizon. The IROC's would soon have 350's in them, and "Darth Vador", this little turbo charged Buick, was getting a little more common.

I removed all the "stupid emissions stuff" so I could put headers on the car, change the cam, intake manifold and put a cheap holley 1850 on it. My pop had to fix everything I screwed up (timing problems, oil leaks, whatta hack job - this is HOW YOU LEARN!!!!!). During this time - I threw my functional air induction setup into the trash can because it didn't fit on the holley.

Throttle stuck while burning outta fast food joint, car got away from me, fortunantly, I didn't wreck the thing, but I over-reved the car.

This little situation actually scared me. I was about 200 yards shy of an intersection with a redlight and stopped traffic (I was heading towards the backend of a semi-truck) and I was charging at it at full throttle. Rather than hit the key and shut the car off (which would have been the right thing to do at the time), I aimed the car up into someones yard - missing the truck and the peoples house - then proceded to tear the $#!+ out of their grass and sandblast the side of the semi. By now I got the car slowed down but the motor was still screaming and I shut the car off. The tach needle- which sweeps clockwise simply dropped from 7000 rpm back to zero (the short way). Within a month of this episode, the engine spun some bearings.

Walked around town for a while.

Me and pop rebuild the LM-1 over the winter. Gee, I didn't know my dad was a gear-head - I just thought he designed & tested Jet Engines for a living (DUH). Close up of my LM-1

Car runs strong with rebuilt 350 in it. For about a year. Notice the decorative ladder bars on my car? Eventually, I blew this engine up. I played hard with my toys.

Walked around town some more.

* (meanwhile... bought a 1970 Rally Sport Camaro... NO MORE WALKING AROUND TOWN!)
er, not really.... It's 2am... do you know where your children are?
Ya, this photo of me & my driveshaft were taken at 2:30am on a saturday morning, shortly after walking home. I went against a 396 Chevelle and spit the thing out - the shaft. The chevelle guys just laughed their asses off and tore off). You wanna play, you gotta pay. I was determined to take the driveshaft out of my busted 1980Z and put it in that morning. Back then I could have done this in about 30 minutes. Now it would take me a month to install the driveshaft. Good thing my dad yelled at me to stay home.... cause the driveshaft U-joints were different and it wouldn't have fit. Fortunantly I busted my car at the top of my street and we pushed it home at 3am.

I owned the Rally Sport for about 1 year. It was my new & favorite plaything (and it worked), so it sort of diverted attention away from my 80Z28. One day, some kid smashed into my RS. The funds from the settlement of his indiscretions paid for a 1980 Chevy Citation beater (commuter car) and the vast majority of the money went straight towards the below mentioned engine. (if you have a 2 speed vacuum cleaner - put it on "high").

* Figure maybe I should have a "professional" build me a hot motor. Fellow down in Newington, CT. builds good stuff, get an LT-1 for $2500. $4000 and 6 months later... I got a monster! I also learned real quick you RESPECT power, don't be afraid of it. When I first started this bitch up - I nearly shit my pants. Nevermind the light under the hood - we're talking serious stuff now.

View my LT1: The LT1 as installed
Me and my girl (who married me anyway after all this) did the bodywork on the car.

Stripped off the decals, the paint. I replaced the fender. My friend replaced the door skin and painted the car black cherry, fogged in blue, purple, yellow and red pearl paint. It looked really nice. This paint job is still on the car today.

View photos: De-stickered and removing rust
This door was loaded with bondo. My friend hit it with a ziz-wheel real quick, and I went and bought a new door skin.
Final Priming & surface prep
Getting painted
Schweeet - mammalike. Papalike too.

* The fellow in Newington built me an LT-1 that supposedly would scream up to 8500 rpm.Believe me I tried to get it there, and it wouldn't do it. This is when I learned about a cars "combination" and why I wound up spending $$$$ more than I planned. I had to fix the HEI ignition... and then the car screamed up to 6000 and pooped out. Then I had to upgrade the fuel system, then the thing screamed. In order to get even more acceleration, I changed the rear gear from 3.42 to 4.10. What a rocket.

I had a pretty good reputation around my area. At this time, I actually could back up the "NastyZ". Not much could take me. I vividly recall one night screwing around with a stock exhaust 69 Camaro. He got me by a 1/2 a car length. His parting words were "How do you like my exhaust?". I later found out he had a 427 w/nitrous. His exhaust was a decoration when he cut out to open headers. I also recall playing with a japanese superbike. It was a nice night and he had his helmet and leathers on. We went screaming side-by-side down the road. When we got to a stop and the guy caught up with me, he looked over and shook his head.

* In the fall of 1988 I was racing a Formula 350 on the highway. I walked away from him initially. I topped out and the Formula chased me down. At about 140 or so, I was tached out at 8500, I musta pitched the fan-belt (typical problem I had) and I heard "DA-DA-DA-BANG". It melted down in about 2 seconds. Man was I pissed.

* I bought a 454 out of a C30 utility truck. MadMike's done dicking around.

* I read a hotrod article about a 450hp 454 build-up. So, I built my engine according to the article. Holley 750, Edelbrock performer, Comp cams 280 magnum, big hooker headers... the works. The car would kick ass. Not as "trick" as the LT-1, just raw, unadulterated, brutal torque.

* This engine lasted from 1988 to 6/97, admittedly, I ran it sparingly.

Fall 1990
One of the reasons why I ran the car sparingly during this time is because I "went on the road" computer consulting. I went to Painesville (Cleveland) Ohio for a while, then in early 1992 I moved to Atlanta. During this time, the car was garaged at my parents house in Connecticut. Once I found out we were having a baby and I needed "benefits", I hired on permanently with DEC and dropped anchor down south. One of the benefits is DEC paid to have my 80 Z28 and my Chevelle trucked down to my new home.

Summer 1995
In 1995 I took the car to Atlanta Dragway to see what happens. What happened was abolute zero traction. I ran a 14.2 with a plug wire off. When I plugged the wire back on, I ran a 14.9. My third run I ran a 14.30 trying to get the car to hook up. This whole excersize was enough to let me know I couldn't be competive, so we went home. And I started spending some cash. The 454

* As you can see, my car has T-tops, which was good for picking up chicks (until I found my wife), but it sucks in the structural integrity department. So I had to strengthen the chassis. This story picks up under the "Construction section" Above.

Actually, no it doesn't..... I've come to the conclusion that trying to put 700 HP into my 1980 Z28 and drag racing it hard is not very smart. So, now I'm going to be putting my 1980 Z28 back on the street, as a street machine again. All the drag racing goodies will be going into my 1971 Z28.

Fall 1999
Right now, I have to undo all the previous stuff I had done to get the car ready to race.

Replace solid frame bushings for polyurethane.
Replace rear springs.
Replace front coils
Rebuild steering system.
Remove 12 bolt 4.88 axle and install my 3.73 posi.
Install new motor mounts.
Drop 350 engine and old trans in.
Fix gas tank or swap in a stock one.
Plumb brake lines and fuel lines.

May 2000
I'm currently undoing everything I had been doing to the car to get it ready to race. I sold my 1972 RS/SS that was sitting around, decided to race my 73 Z28, and ENJOY driving one of my cars occasionally. Since this car is nice looking and close to being functional, I'm going to town on this car now.

I try and do something every day to the car, just to keep progress going. I have the transmission getting overhauled right now, since it sat in the shed since 1995 - it's getting freshened up. I have the 350 on the engine stand right next to the car. I have the 10 bolt handy, but I need to do some work to it. Since I want to use my stock aluminum wheels, I can't easily keep my extended wheel lug studs - so I have to swap my axles and stash my forged steel axles in the attic. I'll do this so if I ever want to put the weld draglite wheels back on, I can change my axles.

I'm waiting for my new PST rear springs to show up. By then, I'll be ready to put the 10 bolt back into the car. Plus at this time, I can drop my subframe connectors and install new brake lines.

December 2000
I'm trying to get the car off jack stands finally. I'm putting the suspension & steering in the car. I have a ZZ4 engine which I need to bolt the fastburn heads onto, then bolt my transmission up to that and drop it into the car. It's basically just odd's and ends left to do - I have all the parts to get the car put together.

May 2001
I got the car off jack stands. As you can see, I finally pushed it out of the garage for the first time in over 3 years. I'm buttoning up the engine. I hope to install it this month. I'm tightening up the suspension, wiring & plumbing the fuel system, checking the wiring, putting the interior back in and double checking everything I had torn apart in the past 5 years. I'm cleaning and detailing everything as I put it back together. On May 22, my friend Nick and I installed the engine. Some of the minor obstacles during this exersize were: the engine crane didn't reach far enough into the engine bay from head on, so we had to reposition the hoist over the fender. The polyurethane motor mounts create a very tight fit, the motor must be absolutely centered or it'll kick over sideways on either mount. My torque converter requires a 14" flexplate. The current plate is 12.75", so I had to buy a new flexplate. Before I start bolting everything up to the engine, I'll replace the flexplate.

Stay tuned for next month, hopefully we'll be making some noise (and it won't be from the car falling on my foot or something).

Last updated: 12/6/2000
Re-written: 11/24/99
Author: MadMike Maciolek
Email:

[email protected]




Return to my Z28 Page
© 1997 - 2000 North Georgia Classic Camaro (tm)
All rights reserved